SKUTR2101011AN008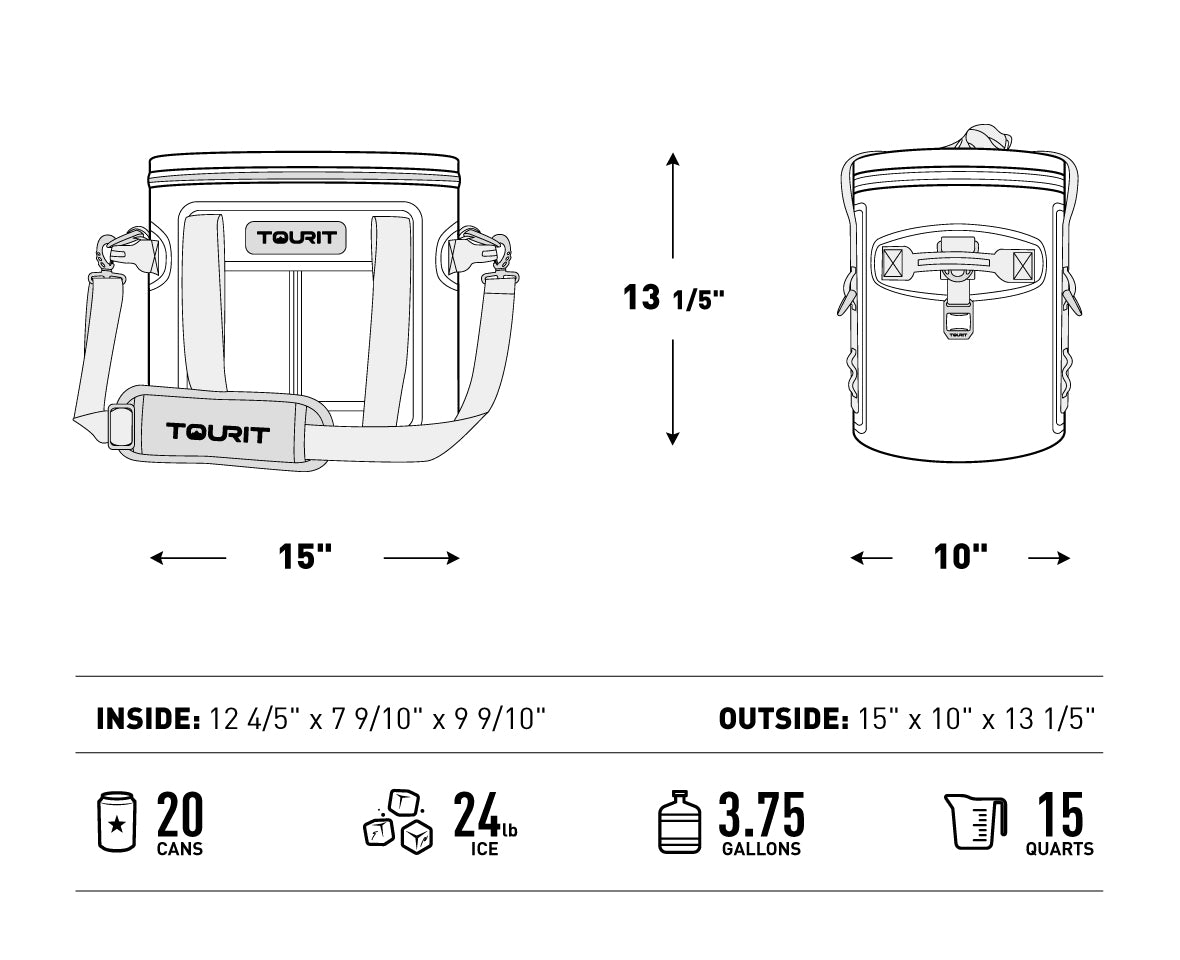 Product Video
All About Tourit Voyager 20 Cans

TOURIT Voyager 20 cans soft pack cooler bag is profect ​portable cooler for all your excursions;
Combining thorough design and innovative concepts, we offer you cooler bag that is unmatched in quality and utility;
Advanced Cooling Performance: High quality insulation in 3 unique layers work together to keep your food and drinks cool up to 3 days;
Hold 20 cans plus ice, could perfectly be placed in the trunk of the car and the wide-mouth opening of the soft coolers insulated ensure easy accessibility and loading of the drinks;
Perfect for park, beach picnics, tail-gating, hiking, camping, sea fishing, hunting or even your own backyard;
BPA Free and FDA Approved: Made of non-toxic, BPA free material inside and outside of the soft sided coolers, superior quality, competitive price, 3-year warranty. If there is any problem with the product, just contact us within the first 30 days after receiving your product and email us, you will get a full refund or replacement.



SPECS:
Weight: 5.1 pounds / 2.31kg;
Material: 3-layer insulation material in BPA-Free + FDA approved +TPU;
External Dimension (L x H x W): 15.0" x 10.0" x 13.2"
Interior Dimension (L x H x W): 12.8" x 7.9" x 9.9"
Capacity: 20 Cans & 15L;
Note: To ensure this soft cooler leak-proof and own advanced cooling
performance, we use the airtight zipper which may be a little tight when you first
use. You can use the TOURIT lubricant which is provided to make the zipper
slide more easily. See instruction manual for more detailed usage.
PACKAGE INCLUDES:
1 x TOURIT Voyager 20 Cans Soft Cooler
Outer layer has a water-proof surface which ensured no sweat, middle layer is high density foam and the interior is fully lined with leak-proof material;
100% Leakproof and Impact Resistant: This soft pack cooler features a waterproof and tough shell to ensure no sweat;
Removable shoulder strap comes with a durable pad for more convenient carry;
Top handles and 2 reinforced side grab-n-go handles, you can carry this soft cooler bag hands-free on the shoulder for light loads, or use the top/side handles for heavy carry;
Features a waterproof and tough shell, to ensure it can hold its own when faced with the hazardous wild.
The main storage compartment of the soft coolers insulated is large enough to provide roomy capacity for all your needs, 2 layers, 3 rows, total of 20 cans;
The interior features an antimicrobial liner that resists mold and mildew, and the airtight zipper with easy pull tab keep the portable cooler leak-proof;
The airtight & water-proof zipper with easy pull tab keeps the soft sided coolers leak-free, to ensure your adventure more convenient.
United States
Processing: 1-3 Working Days
Shipping: 10-20 Working days
Free shipping on all orders
We offer a 30-day Love-It-or-Leave-It Guarantee. This means that if you don't love our products, for any reason, we'll take them back within 30 days after the day on which you receive the goods.view more